Zero Offset Valve, Zero Offset Valve Manufacturer, Zero Offset Valve Supplier, Zero Offset Valve Exporter
Zero Offset Butterfly Valves are also known as concentric design butterfly valves, these are commonly available in resilient seat or rubber seat. These are used for the valve that used in low pressure and temperature services. The stem and disc are centered in the seat of the valve and the disc is in constant contact with the seat. All of which is centered in the body of the valve. Concentric Butterfly Valves are designed and manufactured to have a mix of structural stability, flow efficiency, and effective sealing. The valves have a low weight and a compact design. As butterfly valve serve a broad range of applications throughout fluid processing industries. Concentric shaft ensures low operating torque. The design of disc and shaft axis is concentric with the valve body. There is minimal friction between the disk and seat during the full operating cycle which is bit of a disadvantage.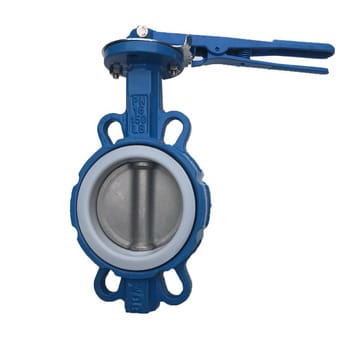 This valve is the media going through the valve will not contact the body, since the sear is constructed as a sleeve or cartridge inside of the body id an advantage of Zero Offset Butterfly Valves.Zero Offset Butterfly Valve is provided with replaceable sleeve and the material will fit to the specific fluid for a long operational life. These butterfly valves are used in basic and specialty liquid and gas applications up to 200 PSI and up to 400 deg F. The valve is available in epoxy coated cast iron and stainless steel with multiple seat materials such as Buna, Natural rubber, EPDM, VITON, Teflon etc.