Stainless Steel Butterfly Valve are used in pulp and paper industry, oil and gas industy, fuel handling systems, marine, petrochemical processing, refrigeration and air conditioning industries. As the name suggests Stainless Steel Butterfly Valve manufacturer is made of Stainless steel which in itself is a corrosion proof material. By use of material like Stainless Steel the life of the product is longer. At Fiksar Valves Mfg special testing of material is done. This butterfly valve is also designed with an anti-static pin and spring to eliminate any possible static discharge due to the isolation of the stem and disc from the valve body. This makes the valves ideal choice for applications in aggressive atmospheres and harsh wash down situations. At Fiksar Valves Mfg we provide range and size of Stainless Steel Butterfly Valve so industries get many choices and can choose as per their requirement. Cartridge seat is designed with precision machining to maintain tighter disc to seat tolerance and alleviate installation difficulties. Butterfly Valves are similar to Ball Valves which allow quick shutoff with less support required. But Butterfly Valve is preferred over Ball Valve as they are more cost effective with similar functioning. These valves are trusted in Industry as they provide the source for all their high performance valve needs with the specified parts any enterprise require.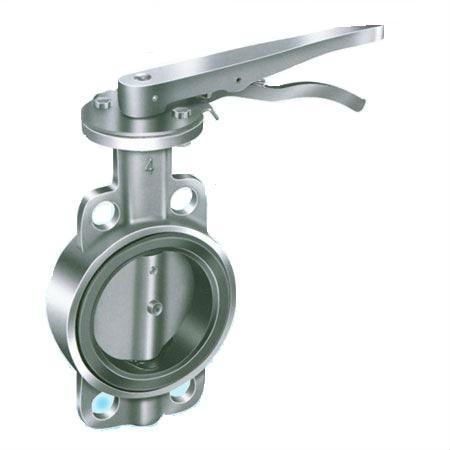 Advantages of purchasing Stainless Steel Butterfly Valve from us:
Maximum efficiency and long life in working cycle.
Quick opening and closing of valves.
High strength, anti-blowout one piece stem.
Easily accessible and adjustable stem packing.
Compact construction results in low weight, less space in storage.
Easy to clean and disinfect for potable water system.
Low operating torque.
Easy operation and economical actuator sizing.
Tight closer provides process efficiency.
Precision cut, hardened steel gear for longer life.